Server Overlord
Staff member
Owner
Mar 21, 2015
113
243
43
20
UPDATE: SWITCH TO REFORGED!
​
It's been a long run with Generations, but it's now time to switch back to the original version of the mod,
Pixelmon Reforged
. This means a few things. Firstly, Generations has slightly more Pokemon implemented than Reforged at the moment. These Pokemon which are not yet implemented will be added to a "Deep Storage," which means once the Reforged team adds them to their mod, you will automatically get the Pokemon back exactly as it was. Secondly, the developers of Reforged are significantly more experienced and are able to maintain/fix bugs much more effectively. This means no more sloppy Pokemon textures, fewer Pokemon disappearing/duping, better FPS, more frequent updates, and tons more. Lastly, AdventureMMO and the legendary spawn reward from VoteParty must be temporarily disabled until they can be updated. With this update we will also be increasing the world border from
30x30k
to
40x40k
in order to free up some more space for new players.
To join our server from this point on you will need to either update your Technic packs, or download the mod directly from
here
and replace it with Generations in your mods folder. We hope this will bring the server long-term stability and greatly improve the overall experience.
~~~~~~~~~~~~~~~~~~~~~~~~~~~~~~~~~~~~~~~~~~~~~~~~~~~~~~~~~~~~~~~~~~~~~~~~~~~~~~~~~~~~~~~~~~~~~~~~~~~~~~~~~~~~~~~~~~​
Hey guys, Shmeeb here with another round of exciting updates & features!
~ Halloween Spookiness ~
First and foremost, we're embracing my personal favorite time of the year with some spOoOoOky new features! Come Trick or Treat at our brand new
Haunted House
located at
/warp hauntedhouse
and grab yourself some goodies! Simply ring the doorbell and wait a few seconds for someone to answer
You may claim up to 1 reward every other day in the form of a "Cursed Key," which can be redeemed at /warp crates. These keys are available for a limited time only through
/warp hauntedhouse
and in the
donator store
. Last but not least we also released some new Halloween titles and emotes, both available in the Cursed Crate.


Color Party
Next up we've got a brand new event, coded by yours truly. Put your skills to the test in this fast paced, reaction based minigame. Each round you must stand on the chosen color before the timer runs out. Each round the timer is reduced slightly, so act quickly! We'll be hosting this alongside our other daily events.
Drop Crates
Hunt for
"Drop Crates"
of varying tiers, spawned randomly throughout the day at a random location. These
ultra-rare
crates offer a wide variety of
exclusive
high-tier items, available only through Drop Crates. Happy hunting!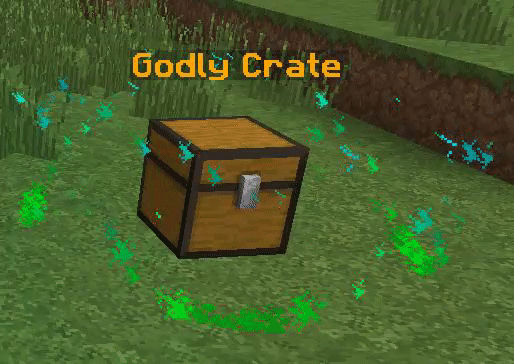 Note for donors: In order to make this fair, walking & flying /speed must be set to default values at the latest 30 seconds after a Drop Crate has been spawned in order to be eligible to claim it
Nexus
Next up, we've decided to replace the mall with a better system that allows for more player customization and interaction: the
Nexus
! In this new area located at
/warp nexus
, you guys are able to purchase any of the "Nexus" portals for a price of $50k up to $100k. Simply politely ask your nearest moderator and they will set you up. Act quickly before all the hottest spots are taken! We hope this will allow you guys to take your shops to the next level and make the economy more enjoyable.
In order to "kickstart" things a bit we decided it would be fun to host a server-wide Nexus competition! The theme is simply "extravagance," be it through the actual builds and/or your ChestShop setup.
The (one) winner will get their very own NPC permanently placed in the Nexus, a highly distinguished Nexus pad, and $50 credit in the donation store. No entry is required for this competition - all Nexus warps will be evaluated. I will be the judge and I will make my decision on the 14th of October. Good luck and have fun!
Nexus Rules:
Max 1 Nexus portal per player, and per 100x100 area
ChestShops must be located within the immediate vicinity of the portal
Portals whose owner remains inactive for 60+ days may be removed
An area must have at least 6 (stocked) ChestShops in order to be eligible for a Nexus portal
Item Frames may not be placed anywhere near a Nexus portal, as they cause lag issues
Disco Club
Wanting to blow off some steam? Come get funky in Pokeverse's very own "
Club Shmeeb,"
equipped with a working DJ, dance floor, and stunning particle effects! Maybe even grab yourself a drink or two while you're at it.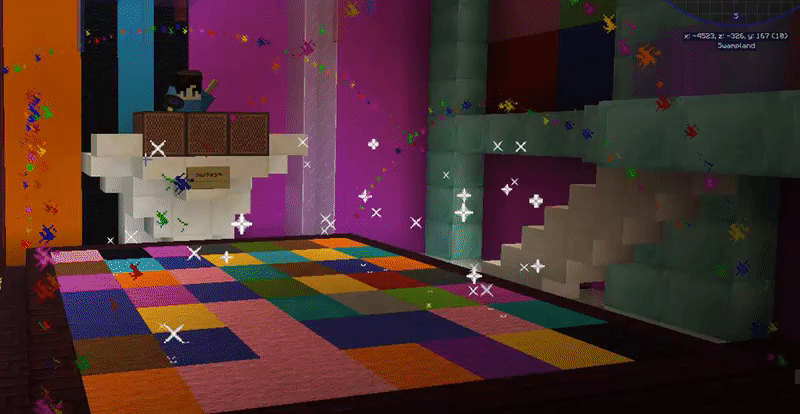 Referrals
Have any friends that also play Minecraft? Introduce them to our lovely server for some sweet rewards with
/refer <name>
. If you refer them
before
they ever log in, and they accrue 6 hours of playtime, you both will get a free
Master
crate key! Once they have 6 hours of playtime type
/referrals claim
to receive the rewards. We hope this will help spread the word about our awesome server
Note: any attempts to game the system (using alts, for example)
will
be caught and earn you a permanent ban
Miscellaneous Changes:
Token and in-game money rewards have been buffed in all crates
Builder applications are now open for serious & talented applicants only! Apply here
With this barrage of updates we'll also be running a 40% off sale from now until October 8th. Get those ranks now while they're cheap!
Lastly thank you all for your amazing support lately, I'm very excited to keep bringing you guys enjoyable new content. Stay tuned, next update will be even more awesome
- PV Staff
Last edited: